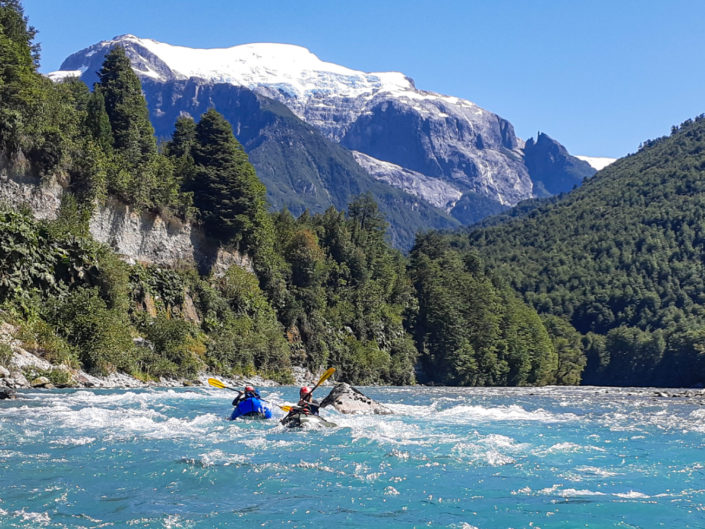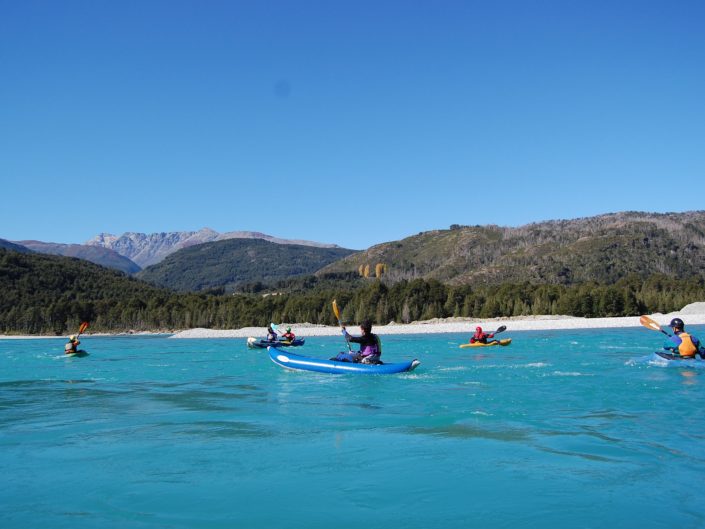 Aguas turquesas y paisaje
El Rio Puelo se extiende por 120 km dentro de los cuales hay secciones de rápidos y secciones de aguas tranquilas y todas ofrecen una vista inigualable.
Rafting y kayak El Porton.


Esta sección va de Puerto Urrutia hasta Santo Domingo son aproximadamente 2.5 horas de bajada con rápidos clase 3 y 4 recorriendo un cañon muy bonito.
Rafting y kayak Pasarela – Puerto Urrutia.


Esta es una flotada apta para todo publico con las mejores vistas del Valle del Puelo dura aproximadamente 2 horas con rápidos clase 1 y 2, gran viaje familiar.
Kayak el Cañon.


Esta es la sección de rápidos mas fuerte del Rio Puelo. Va desde la desembocadura de Lago Inferior hasta La Pasarela. Solo para Kayakistas de alto nivel. Rápidos clase 5.
Kayak de travesia Lago Azul.


Este viaje invita a recorrer el lago azul remando en kayak de travesía por sus aguas cristalinas y rodeados de sus cordilleras.
---
Turquoise waters and amazing landscapes
The Puelo River runs for 120km. Among them, there are sections of rapids and sections of quiet waters, which all offer amazing site seeing.
Rafting & Kayak El Porton.


This section goes from Puerto Urrutia to Santo Domingo and takes approximately 2.5 hours with rapids class 3 and 4 going through a beautiful canyon.
Floating La Pasarela – Puerto Urrutia


This float trip is a great family float, with rapids at class 1 and 2. It offers the best views of the valley.
Kayak El Cañon


This section is for high level kayakers, with class 5 rapids. It goes from the river mouth of Lago Inferior to La Pasarela.
Sea Kayak Lago Azul


This trip invites you to paddle the cristal clear waters of the Blue Lake surrounded by amazing mountains.